LOCATION
Aspire Conference Center - Gettysburg, PA

2634 Emmitsburg Road,

Gettysburg, Pennsylvania

(enter at Aspire Entrance - Front Left)


Final Registration Deadline: Sunday, April 8



Invite your friends/family and join us May 4-5 for a fun and challenging weekend in the historic city of Gettysburg, PA, the site of one of the most decisive battles in our nation's Civil War. There will be 3 great sessions of fun, worship and teaching, along with a multitude of free time options including a Battlefield tour.

Speaker: Ray Cannata
Ray is the Senior Pastor of Redeemer Church in New Orleans, LA. Ray was born and raised in New York City and its burbs and has been in New Orleans since 2005.

His congregation assisted with the rebuilding of over 400 houses in the years following Hurricane Katrina and their ministry has been featured on Anderson Cooper 360, Fox & Friends & the Wall Street Journal.

He is the co-author of Rooted: The Apostles' Creed and has a forthcoming book on the Seven Deadly Sins. A major documentary film was made about Ray's quest to eat at every non-chain restaurant in his city (800 of them) called The Man Who Ate New Orleans. It was released nationwide in theaters, film festivals and on PBS. Ray has been married to his wife Kathy Fortier for 27 years and has 2 children.

TENTATIVE SCHEDULE:


Friday, May 4:
7:00 pm Arrival/Check-in
8:00 pm Session #1
10:00 pm Evening Free Time (in town/hotel)

Saturday, May 5
8:00 am Breakfast
9:00 am Session #2
11:30 am Lunch (on your own)
12:30 pm Free Time: Golf, Battlefield Tour, Hiking, Fishing, Games, Go-Karting and more.
5:30 pm Dinner
7:00 pm Session #3
8:30 pm Depart for Home

FREE TIME

Gettysburg Battlefield Tour: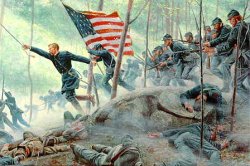 Hop on our 'Battle Bus' for a tour of the battlefield in Gettysburg National Military Park. We will have a tour guide take us through the historic battle and visit the sites and monuments that make this one of the most visited historic sites in our nation.

Golf: (More information coming- Separate Fee)
Enjoy a beautiful spring afternoon on the links of one Gettysburg's beautiful courses.

Hiking: Less than 20 minutes away is the Catoctin National Forest filled with wonderful hiking trails and vistas.

Go-Karting: All Star Go-Karts in Gettysburg offers a fun Go-Kart track, putt putt and more.

Gettysburg Area: Spend the afternoon discovering the shops, food, pubs and culture of Gettysburg.


Men of all ages (14 +) are welcome: Space is limited, so register today.

(Boys 14-18 must be accompanied by a parent/guardian)


REGISTRATION FEE(S):

(Notes: All rooms have 2 queen beds and queen sleeper)


$170 per person (single room)
$115 per person (double occupancy)
$100 per person (triple occupancy)
$90 per person (4 or more per room)
$70 per person (student rate - triple or quad)
$40 per person (commuter option - not staying at the Conference Center)


Questions: Email Steve Dallwig or call him at 410-442-5800 ext. 123